After two years I've finally finished this cute Snowman tree by Stoney Creek. I was supossed to work on this one only on weekends, but I couldn't help myself it was almost done so I decided to go ahead and work on it until it was finished.
I love this piece, the colors are so bright. I'm not sure how I'm going to finish it, I'll propbably make a pillow but I can still change my mind.
My sister took my digital camera on her trip, so I had to scan it in order to show you. That's why the picture is so bad. I'll take a better one when she gets back, then you'll find out what I did with it.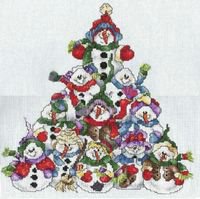 Now I'll go back to stitch my Haed piece.
I started going back to the gym this week, every inch of my body aches righ now, i can't hardly move. but I needed to do it, I had gain some weight since I got back from Spain back in march, and obesity runs in my family so I have to keep it under control. I'm going to a new gym that has just opened here in Lima is really fun because the groups are small, so it's more peronalized. It's a 6 week program, so it's very intensive. After that I'll go back to swiming which is something I enjoy more.