This past week I've been working on Row of Love. I've put about 52hrs on it now.
I'm really enjoying this project, eventhough there is a lot of color changes. But I think it's really worth it, since the bears furr looks more "real" because of it.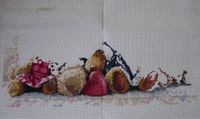 (Sorry the pictures is dark)
Now I'm back working with the mermaids, I've done some progress on that one too. I'll probably post an update by the end of the weekend.
I've also recieved my threads for the HAED chart I want to start. There are 50 different colors on that one!!!
I'm trying very hard not to start it, I need to finish one of my current projects. Otherwise, one will probably become an UFO.